The cost and remote desktop setup type for cloud hosting varies depending on the requirements of each specific application.
For many types of business programs, the best architecture is to host multiple users running on a single server such as our B-8 server listed in the chart below. In that type of scenario the cost would be $400/month for the server plus $10/month per user. We currently have customers hosting business applications for 400-500 users on a B-8 class server, but you might see different results.
For other types of applications, the best technical solution is to host each instance of the program on its own dedicated server.  This can be true for programs that are graphically intensive or require Microsoft Office integration.  In those cases the monthly cost per user is based on the server level required to run the program.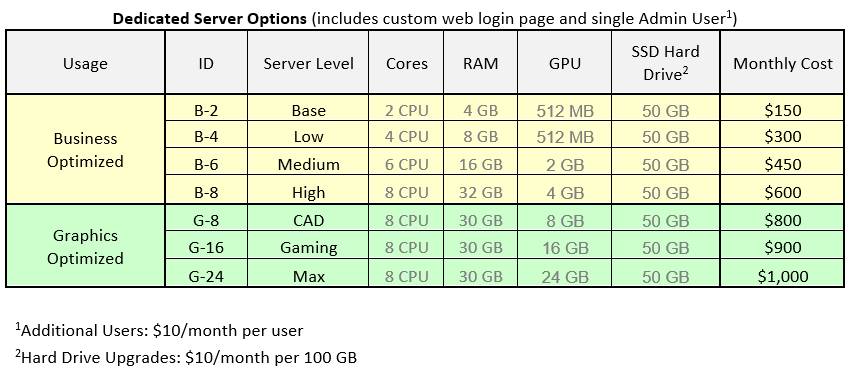 We would be happy to set up a free demo of your application running on one of our cloud servers.  All we need is a copy of the setup program and any registration codes or special instructions required for installation.
Please feel free to reply with any questions or call 540-554-8284 during normal business hours (East Coast). Alternatively, you can take about 45 seconds to fill out our contact form and we'll follow up with you!